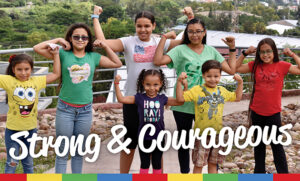 Jubilee Center International's
2021 Virtual
Celebration Event
Tuesday, Oct 26th at 8:00PM (EST)
Join us virtually as we celebrate…
…the strength of the community we serve,
…give thanks to those who gave us courage to continue on,
…and invite new friends to join us in this mission.
Simply click this button to RSVP
While we wish we could host an in-person event, the present circumstances in Honduras preclude us from doing so safely. Regardless, we know that our God is at work during this pandemic and that His plan is bigger than boarders and ballrooms.
This event will be fun, inspiring, and
celebrate the amazing work that He is doing through Jubilee. As Jubilee's only fundraising event, the funds raised at the annual celebration event are vital to our mission.
Thanks to supporters like you, Jubilee continues to be a holistic ministry that invests in the community through education, evangelism, and discipleship. Your support enables students receive a quality education no matter their income level and provides their families the opportunity to meet Jesus.
Can't attend but would still like to contribute?
Interested in becoming an
Event Sponsor?
Interested in volunteering?
Hosting a watch party?
Have other questions?