I planted the seed, Apollos watered it, but God has been making it grow. 1 Cor. 3:6
As it is 2019, Jubilee's 10th year anniversary, we reflect back over Jubilee's ten year history, we can't help but liken God's presence to that of a gardener. How many of us have planted tulip bulbs into the dry, hardened ground and then waited throughout the long, cold winter anticipating, trusting, and hoping that they would sprout forth roots and leaves and eventually bloom into beautiful flowers come springtime? The history of Jubilee has been like that in so very many ways!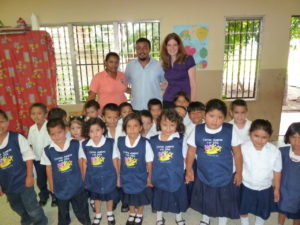 Even as our founders, David and Emily Romero themselves were teenagers, God was already preparing the soil and planting in them the desire to serve His people through community outreach, Christian education, and evangelism. The bulbs were planted, but it would take years of patiently waiting before any growth would appear above the surface. Behind the scenes, however, various people were coming alongside the Romeros bringing life-giving water, and roots were wriggling deeper and deeper into the fertile soil to create a strong foundation. Through a web of intricate circumstances that only God could orchestrate, He brought David and Emily together to work toward the common goal of starting Jubilee Centers International. The timeline below highlights the very many examples of how the Gardener's hands have been tending to and caring for the ministry of Jubilee over the past ten years, ensuring that all of its needs are met in His perfect timing:
2009: David and Emily were living in California while Emily finished her graduate degree at Fuller Seminary. One night after church, their car wouldn't start, and the church member who gave them a ride home just happened to be experienced in helping missionaries legally incorporate their ministries. He helped them with all of the legal paperwork to establish Jubilee's non-profit status free of charge.
2010: Although initially the plan was to begin with Middle School, the Lord had other plans and opened wide the doors to for Jubilee to officially begin its ministry in the community of La Era serving 85 students in preschool and kindergarten!
2011: Jubilee started 1st grade, continued with PreK and Kindergarten and was able to partner with a large, local church, Cántico Nuevo, to use their space for classrooms with the plan to add on one grade level each year.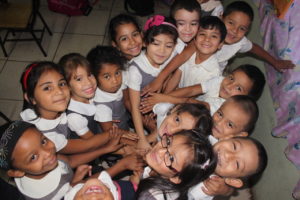 2012:
This was the year when the Gardener sent His rains of blessing that prepared the ministry for future growth. Through a number of miraculous steps, the Lord opened the door for Jubilee to purchase property in the heart of La Era. He brought partners and new donors together to help raise a total of $85,000 to pay for the property that would allow Jubilee to fully bloom in due time.
2013: Jubilee's church took root and really started to grow through Sunday worship services and weekly Bible studies at the request of students and their parents. Jubilee also hosted its first mission teams.
2014: It's always darkest before the dawn, and such was the case at the start of this school year with preschool through fourth graders stretching the limited space at Cántico Nuevo. The new property sat untouched, and the Romeros were told that they would have to look for another place to house their school. The faithful Gardener soon showed up in a miraculous way as He worked through friends of Jubilee to voluntarily chair our "Building Dreams" Capital Campaign to build the school building on the property. By the end of 2014, the campaign had raised more than the original goal! By October, construction of the new Jubilee school building was underway spearheaded by Construction Manager, Saul Romero.
2015: This was a year of firsts for Jubilee. It was the first year having a year long missionary (Amy Haroff), the first year having a school library, and the first year having a music academy. As all of these new shoots sprang forth and grew, up the road a ways, the new school building was also steadily taking shape, sinking its roots five stories deep and reaching its walls three stories high.
2016: In February–the new school building being completed just days prior–Jubilee gave an open-armed welcome to its 270 preschool through sixth grade students. Weeks later, the new school principal, Ms. Gabriela Casco, helped lead an official inauguration event at the new school to thank God and everyone who made the building possible. From a lifeless bulb, to roots and leaves, at long last glorious flowers began bursting forth!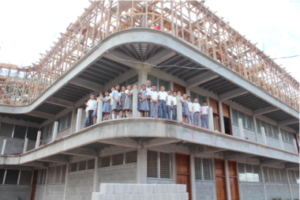 2017:
As if having a whole room for a library weren't exciting enough, this year Jubilee received funding for the opening of a computer lab and also started its after school music academy. Young musicians began leading worship as a fragrant offering to the Lord.
2018: This was definitely a year of growing and blooming as Jubilee started its support program for its graduates now attending area middle schools; the music program put on a high quality, Christ-centered concert; long term missionary, Emily Brown, launched Jubilee's own child sponsorship program; and Jubilee's church continued to expand its ministries sharing the gospel with throughout La Era.
2019:
We celebrated with much joy, gratitude, and remembrance of our 10th anniversary! These celebrations were had with students, parents, and staff in Honduras and also our supporters in the US. We started our Middle School Miracle campaign with the plans to expand our campus both in facilities and in grades served. This year we also broke ground on construction and began the arduous task of building on our sloped property directly behind our original property and first building. With much shock and sadness, we mourned the death of our dearly beloved 5th grade student Alex Flores.
2020:
We eagerly began the 2020 year with the very highly anticipated addition of Jubilee's Middle School, serving 7th –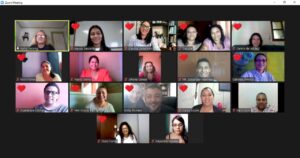 9th graders! In January we hired 6 new MS teachers and added 50 middle school students. We continued to work on the construction of the new middle school capital expansion which includes a classroom/admin/cafeteria building, soccer field, and a chapel! School started in February with 300 PreK-9th grade students and 40 staff members. Only six weeks later, the COVID19 quarantine required students to do in-home learning for the entire rest of the year. Despite the distance, our staff has banded together and worked harder than ever to accomplish Jubilee's mission and shine Christ's light and love across the community of La Era and beyond!
2021: This continued to be another year living under the influence of the COVID-19 Pandemic in which all schools in Honduras were forced to do virtual schooling the entire 9 months of the school year. We created Zoom accounts and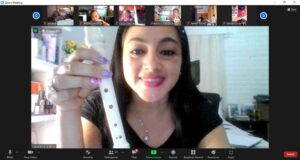 trained our teachers in Google Classroom so that our staff were much more organized and ready to take on the challenges of virtual learning. We continued teaching K – 9th graders, however, since PreK is not a requirement in Honduras, parents did not want virtual PreK for their 4 year olds and PreK was temporarily closed. Teachers continued to reinvent themselves behind a computer screen each day. Jubilee did everything we could to help our students get access to computers and screens so that everyone could be a part of virtual learning. Construction on the campus continued despite delays, labor and material shortages, and massive price hikes
2022: This was another big year of transitions as we needed to begin the year virtually, according to the Honduran government, but little by little learning became hybrid. We installed big screen smart TVs in every classroom and high-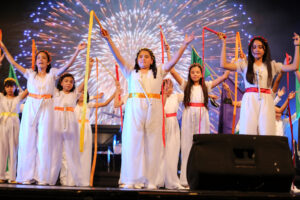 speed internet on every floor of the school building. By the month of June, every student was back to in-person classes every day. There was great joy to finally be back together after over two years of distance learning, but the transition and the effects of COVID and virtual learning also presented many challenges. We served 300 K – 9th graders this year. We were also thrilled to once again be able to have a Musical concert "Let It Shine" and perform a powerful evangelistic message at the downtown theater. Construction continued during all of 2022 as there was great anticipation of the completion of the projects!
2023: This year brought great blessings as we were able to open our first class of High School with our newly granted HS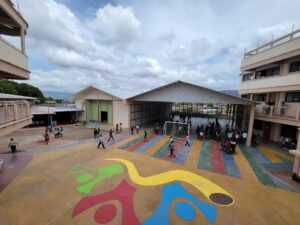 permit. We opened our doors in February to 350 PreK – 10th grade students. During this school year, our roofed sport's court was finished and so was our underground gym area. Students were thrilled to begin to use these areas and also many participated in our new after-school sport's programs. Our chapel was completed and inaugurated at our year-end musical concert done no longer that the downtown theater, but our very own theater! This was a year of great growth and joy!