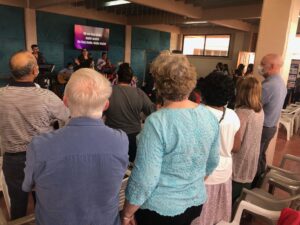 "Lord, there is nothing better than You," rang out in the worship center at Jubilee International School on our first morning visiting the Romero's and the beautiful country of Honduras. It was Sunday morning and the worship service was just beginning. Our Mission Team of 8 people from West Michigan had already received a warm welcome from David, Emily, and their family the day before when we arrived. Margarita made us an amazing breakfast that morning and Saul, David's father, joined us on the bus for our journey from their home to the school and greeted us by serenading us with his beautiful, loving smile and song on the way. I remember thinking during the singing and service that the joy of the Lord was with us and was in this place. The Holy Spirit was alive and living in the hearts of those we were worshiping with that morning.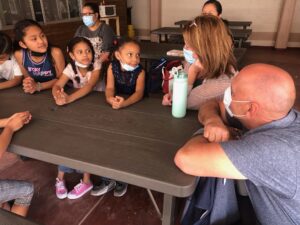 My husband Ken and I have known Emily Romero (Steenwyk) since she was 11 years old. Emily grew up at the same church that Ken and I have been members of for 30 years. I remember when Emily went to Honduras for a semester through Calvin University. And then heard that she had met a man while she was there. So much excitement and wondering how that was all going to go! Who was this, David Romero? Fast forward almost 20 years, Emily and David are married with 3 children. They have made their dream of starting a Christian school for children in La Era, Honduras a reality! They saw a need and they went after it trusting God completely along the way. It has been a complete joy watching, praying, and supporting them and Jubilee from a distance over the last 10 years. Ken and I knew that it was time to visit Jubilee to see all that we had heard about for ourselves. We had absolutely no idea how much we would be impacted by that visit!
"You will seek me and find me when you seek me with all your heart" Jeremiah 29:13
. This is the theme verse for the 2023 school year at Jubilee. I couldn't help but think about the students and staff at Jubilee and how this verse seems to relate to them. They are seekers. Seeking Jesus is about pursuing a personal relationship with him. Christians can often get lulled into being satisfied with their relationship with God, I speak for myself here. Seeking means actively pursuing more. The people at Jubilee are actively nurturing their relationship with God in all that they do every single day! They seek God with all their heart. And that shows in the way they love and care for each other.
I was so struck by the community at Jubilee. There are people at the school all day long into the dark of night. Teachers preparing, staff meetings, youth groups which include music, worship, and dance led by teens and younger students, food preparation, childcare, construction workers, cleaners, after-school activities and bible studies, sports, and parents and siblings visiting and sharing in the community at Jubilee. Each person has their own story. Their own hurts and worries, their own joys and celebrations, their own families, and yet they are a family at Jubilee. They share in each other's lives. They encourage and pray for each other; everyone seeks and needs connection. At Jubilee, it just seems to happen so naturally, they are bonded together in Christ's love.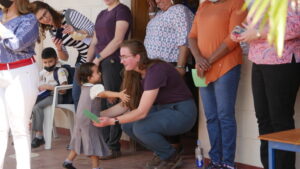 I was also so incredibly struck by the hospitality of the people of Jubilee. We were so cared for during our time with them. We were welcomed into homes to pray and worship together. One of my favorite moments was going to visit Lysbet after her surgery. All Lysbet's family gathered at their home with us, cousins and aunts, and children. After we prayed and sang together, we were invited to stay for coffee and amazing Honduran pastries. What a blessed time together getting to know one another and sharing together.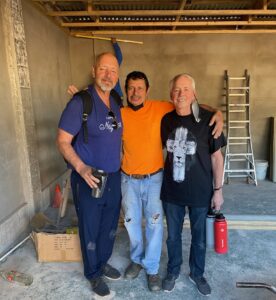 Our week with the Romero's and Jubilee was full. It was full of amazing food and bumpy bus rides, full of playing and working hard, and full of prayer and worship. It was also full of hugs and smiles and tears. It was full of sharing. Sharing life and sharing love. Thank you David and Emily and all of the Jubilee family for sharing your lives and love with us. We carry all of you with us in our prayers and in our hearts always. Ken & Marla Hoekwater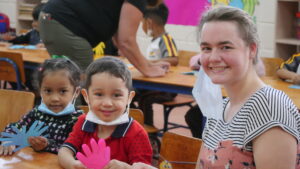 "While at Jubilee, I was struck by how much the Romero's invested in the community. They dedicate their time and effort to others, selflessly seeking to grow God's kingdom. The Romero's and the Jubilee community are a beautiful testimony of what happens when you decide to live for Christ. They are an inspiration to Christians everywhere." Elizabeth Winn
"At Jubilee, it was evident that the Holy Spirit of the Lord was in that place. Pastor David and Emily are stellar examples of humble servants. The foundation of prayer and the manifestation of the blessings could not be denied. Seeing the active faith of the Jubilee community was exactly what I needed. My faith received a booster shot." Linda Gordon
---