As many of you recall, it has been ten years since Jubilee opened our doors to 85 PreK and Kindergarten students in February 2010! So we wanted to really celebrate this wonderful milestone with our students and staff! On Friday, August 16th, we
threw an Anniversary/Birthday Party to remember, give thanks for, and celebrate what God has done in and through Jubilee th
ese past ten years!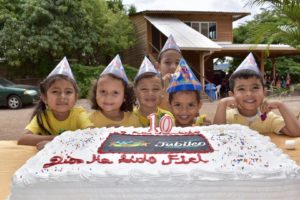 Our celebration began with an all-school assembly in which we sang and danced together. Later we shared picture slides of a number of special events and many students and staff of the past and present while students heard stories of how Jubilee began and how the Lord showed up in power and miracles to bless, provide, and transform. Several teachers gave testimonies and shared prayers of thanksgiving for the past and prayers of intercession for the years to come.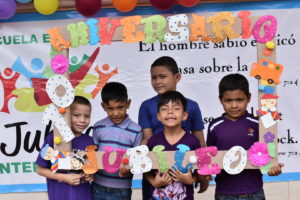 Afterwards we joined together outside in the courtyard for cake and candles and some "Happy Birthday" songs documented with many sweet pictures! The students were all very excited to see the firework birthday candles and to eat some sweet cake! And of course a Honduran Birthday party with children is not complete without pinatas! Each class had fun knocking through a pinata in the shape of the "number 10."
There is so much that could be said about these past ten years, so many stories of difficulty, and so many of difficulty that turned into triumph;, so many lives
transformed;, thousands of seeds planted;, hundreds of children equipped to be academically successful, courageous Christian leaders., Because of His glory, for His pleasure, and through His power, the Lord has done it. "Now to Him who is able to do immeasurably more than all we ask or imagine, according to His power that is at work within us, to
Him by glory…forever and ever! Amen." (Ephesians 3:20-21).
Whether you have just recently come to know about Jubilee or you have been supporting us for the past ten years, we thank you for helping us to spread the gospel and make transformative education in La Era possible!
---