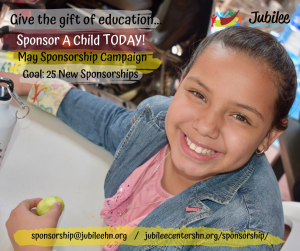 It is May and we are launching our second annual Student Sponsorship Campaign!
In 2020, due to the devastating impact of COVID19 on Honduras, we need your student sponsorship support more than ever before! At least half of our families have lost most or all sources of income, and even very subsidized tuition is a huge burden for many. Please help us continue to give the gift of education through student sponsorship!
The $36/month student sponsorship donations helps to provide additional tuition scholarships for students and allows you, the sponsor, to develop a personal relationship with your sponsored child. Click here to see students available for sponsorship.
Our sponsors know the connection that sponsorship gives them to Jubilee. Here is a testimony from one of our sponsors, Billy, "My wife and I went on our first mission trip to Honduras in 2016. We traveled with some members of our church and worked at the Jubilee Centers International School in Tegucigalpa. We were not sure what to expect but we were ready to experience whatever the Lord wanted to show us. God opened our eyes in so many ways.
We saw or heard things that made us sad: poverty, crime, sickness, and hunger. But we also witnessed joy, happiness, determination, and hope. The dedicated teachers and staff at Jubilee lead a God-centered, amazing school where the students thrive and have a bright future. The children learn in a safe environment where education and Christian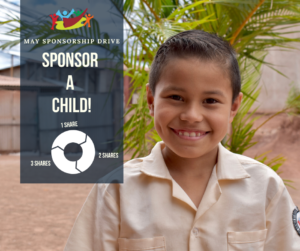 knowledge are emphasized.
The highlight of our mission trip at Jubilee was spending time with the students. We speak very little Spanish, but laughter is an international language. We thought we would be the helping the children, but it turned out that we were the ones learning. Their hugs and smiles made our days so special.
They just want a chance to learn, better their lives, and hopefully be a light in the community. We have been blessed by God to be able to sponsor students at Jubilee. We have seen first-hand what these children, given the opportunity, can do. We know that under Christ's direction, that these students with be the hope for a bright future."
---