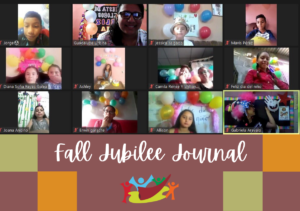 We pray this update finds you well, trusting in Christ as your rock in times of great change and uncertainty. Because of everything going on at Jubilee, the COVID crisis, a new baby, and our Virtual Celebration Event, we found it impossible to get a printed Fall Jubilee Journal in your USPS mailbox. So with the "virtual" and "digital" theme of this year in mind, we are sending you the 2020 Fall Jubilee Journal digitally!
For over six months, Honduras has been living with a strict government-enforced quarantine. Hondurans are only allowed to leave their homes to buy groceries, medicine, and gasoline every 14 days, with days assigned by ID number (just this week, we are allowed to do these purchases every 7 days). Honduran schools have not been allowed to hold any in-person learning since March. Social isolation and restlessness are apparent in the students and parents.
In spite of this, at Jubilee, schoolwork, Zoom classes, weekly devotionals with each grade, and communication with students and families continue. This week we are starting our fourth and final quarter of the school year, which will end as usual in mid-November.
No churches are allowed to worship in-person, so Jubilee's church holds our Sunday morning virtual services via Youtube and Facebook every week. The church community also meets on Wednesday nights via Zoom (for those who have internet), and church care teams conduct weekly phone calls with church members.
Most families continue to be without work, with only little work, or with at least one income fewer per family. In light of this, we are especially thankful for your generous support for food relief. Another food distribution was accomplished for over 100 families in early Sept. We have already distributed food to Jubilee families in need seven times since April!
---