The word of God says that we are the salt and light of the world. What an enormous challenge for believers. Shining the light of Christ amid a world full of darkness. The Holy Spirit equips us and helps us. Jubilee is a place where the light and love of Christ shines. Helping to transform each child through the Word of God. Helping them discover and develop their gifts and talents, their dreams. Instilling both moral and spiritual values, helping them to persevere in their faith.
Today we want to share Isaac Arevalo's story. He is a talented young man with big dreams. He is an alumni of Jubilee and has continued in his faith and walk with the Lord. Shining forth the light of Christ in his home, school, and community.
Isaac began studying at Jubilee in 2014 when he was in 4th grade. As a student, he stood out for being very disciplined, studious, and talented. During his time at Jubilee, he was a member of the school choir, participating in the year-end concerts. Isaac lives with his mother, grandmother, and his little sister. Additionally, Isaac is the nephew of Jubilee's Bible teacher, Ms. Gabriela Arevalo.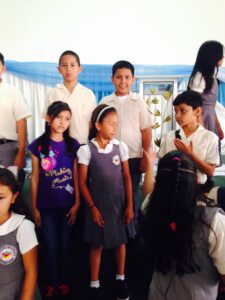 Ms. Karol Soto, his 4th and 5th grade teacher, remembers him this way "Isaac was a noticeably quiet boy, a little shy at first, but over time he managed to adapt and be more sociable. He was always extremely helpful."
Isaac shares a little about his experience at Jubilee and how it impacted his life at such an early age, "Well, I was most impacted spiritually. Jubilee taught us about the word of God. Those teachings have stayed with me. Studying music was also very impactful. Music provided me the opportunity to fulfill one of my dreams, to study music at a professional level."
Isaac is currently 19 years old and studies music at a prestigious School of Music in Tegucigalpa, Honduras. This, his senior year, he is learning the flute and is a member of the choir and symphony orchestra at the institution. He shares with us how this dream began in the classrooms of Jubilee, "One experience that I will never forget, was my first year-end concert at Jubilee. The choir along with the band performances were written-up in the local newspaper. This was incredibly special for me. Also, my Music Teacher, Paola Soto has always been an inspiration to me. Thanks to her teachings I fell in love with music. I could see God's light shining through her as she taught, guiding the students and helping us to develop and fulfill our dreams."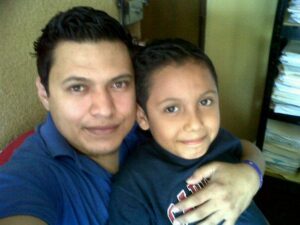 However, during his years at Jubilee Isaac went through the hardest moment of his entire life, when his father passed away in March 2014 due to health problems. However, Isaac continued to move forward with the help of God and the love he received from people that the Lord had placed in his life. Isaac remembers, "It was not easy at all, but I can say that God was always there. He gave me the strength I needed to make it through. The last time I saw my father, days before he passed, he told me "You have to be strong, don't cry, if I get out of here (the hospital), we'll see each other at church, and if not, we'll see each other in heaven." My father was always smiling. The Lord knew, and He prepared me by surrounding me with people who would help me continue to move forward and grow in different areas of my life."
Likewise, Isaac remembers that after losing his father, he has learned to cling to God more, to trust Him, and to smile no matter the circumstance. To follow his father's example, who did not miss any opportunity to preach the word of God in the community.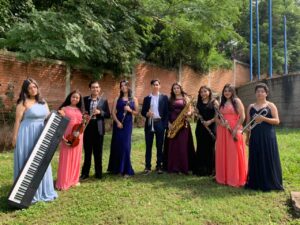 There is no doubt that Isaac has big dreams, he shares "Spiritually, I want to know God more, to seek more of Him and be an example. To serve Him by sharing the gospel wherever I go. Personally, I want to finish my last year of the National School of Music, so I can enter the university, pursue a music career, and obtain greater ability to play the flute. He would also like to learn new languages, such as English and Italian and to learn to play other instruments, such as the violin, piano and piccolo.
"My desire is to open a school, where young people who do not have the financial resources can discover and develop their talents."
Today Isaac is a young man full of the love of God. He is committed to serving the Lord and is a member of the Elim Foursquare Church where he is part of the youth group. He is one year away from graduating from the church discipleship program, training in the knowledge and understanding of God's Word.
---