As we reflect on all the challenges and difficulties that 2020 held, we at Jubilee are deeply thankful for so many reminders of God's enduring love and the support of our community–including you!
At the top of our long list of gratitude are these five things we're especially thankful for in 2020:
#1: The innovation and creativity of our teachers and students in adapting to new ways of teaching and learning. We were surprised by the flexibility and growth this year that we have seen both in staff, students, and parents as they met the challenge of virtual learning. With the desire to keep going and make the most of this year, no one gave up, but everyone took advantage of the opportunity to continue to grow and learn. Teachers went the extra mile to help students, calling them tirelessly, and working with parents and other staff members to identify solutions for students with barriers to learning, especially for those with more difficult home environments. Teachers learned how to create and edit videos, leverage technology and resources, and used their phones and computers until the batteries ran out each day!
#2: We learned to truly live out our theme verse for the year: to LOVE ONE ANOTHER (John 13:34). This year, we deeply loved one another, better, more fully, without reservation. We shared with one another, we called, we checked up on one another, we prayed for one another without ceasing. Our staff learned to care for their students more than ever before. And supporters like you also loved us well, contributing to our COVID Food Aid program and our Middle School Miracle Campaign, attending our first ever Virtual Celebration Event, sending words of love and encouragement throughout the year, rejoicing with us at the birth of baby David, and mourning with us at the passing of David's mother, Reina. The love of God was tangible this year in new and much needed ways.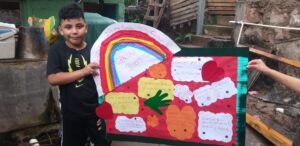 #3: We have learned how to be thankful in all circumstances. We spoke to our students a great amount about thankfulness and finding reasons for gratitude in their daily lives. Students created artwork, poetry, and thankfulness journals throughout the year to remember that even in difficulty we still have so much to give thanks for, and that the Lord calls us to be a grateful people. " I am not saying this because I am in need, for I have learned to be content whatever the circumstances. I know what it is to be in need, and I know what it is to have plenty. I have learned the secret of being content in any and every situation, whether well fed or hungry, whether living in plenty or in want. I can do all this through him who gives me strength." – Philippians 4:11-13
#4: We are grateful to God for you, our generous supporters. Your financial support made it possible to continue to run the ministry day after day, month after month, despite much adversity and uncertainty. Much of the uncertainty came from the fact that we were receiving no tuition payments for most of the However, God provided through you, heros for Jubilee, who continued to support the ministry financially although there was also a great economic downturn in the US as well. On behalf of the students, families, teachers, and staff of Jubilee, THANK YOU!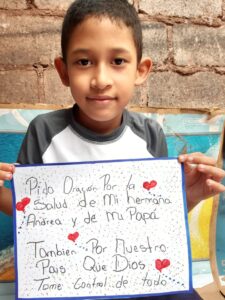 #5: How could this list be complete without saying we are grateful to the One from whom all blessings flow! God the Father, Jesus the Son, and our Counselor, the Holy Spirit. We thank Him for calling us to do His work through Jubilee, We thank Him for opening doors, for growing the work of our hands, for strengthening His people, for bringing more people to Himself this year even through digital communication and worship. And we are thankful for the greatest gift of all time, Christ who was born on earth to offer us salvation!
With deep gratitude for what God has done for us, we wish you Christ's peace and joy this Christmas and into the New Year.
---