Thank you so much for your generous support of the Emergency Assistance Fund! Through your help, we have already raised over $20,000 and Saturday, March 28th, we were able to distribute food bags to all of Jubilee's 215+ families, 13 middle school building construction workers, 15 elderly church members, and each of our staff, for a grand total of over 280 food bags. Because of the country's total lock-down, only staff members living in the neighborhood were able to help.
Each bag weighed over 30 pounds and included not only beans, rice, corn flour, coffee, sugar, oil, noodles, spaghetti sauces, chicken bouillon, instant soup, margarine, corn flakes, powdered milk, oatmeal, canned sardines, laundry soap, dish soap, and toilet paper, but also several note cards with encouraging scriptures printed on them.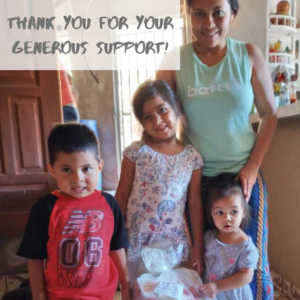 Parents were so surprised and overwhelmed with gratitude over this gift! A fourth grade mom said, "We want to thank Jubilee and all those involved who made it possible for us to receive such a wonderful gift during such a difficult time. Thank the Lord!"
English teacher Mrs. Janeth Garcia, one of many staff members who helped in the packaging and distribution of food explained, "It was so gratifying to see the parents as they received this gift, giving profound thanks to God and to Jubilee." Several family members shared that they had nothing in their homes to eat and this gift came just in time. The Lord is our shepherd, we shall not want.

Thank you, thank you, and THANK YOU!
What a blessing for us as a ministry to be able to provide for such a basic, but incredibly important, need at a time like this!
As you may remember from last week's update, Honduras had 26 confirmed cases of COVID-19, and school suspensions were in place until this past Friday, March 27th. As of yesterday we now have 110 confirmed cases, 2 deaths, and, of course, we suspect many more are infected. In the entire country of 9 million people, we only have 150 ICU units, and the Honduran medical staff is very concerned. The Department of Education has confirmed that the school suspensions will continue until further notice. Because of this, and because Honduras remains on total lock down, we would like to be able to help with one more food distribution during the month of April. Most people's jobs simply do not allow them to work remotely as they are in the service industry or are day laborers. This means a great number of Hondurans are receiving no income at all.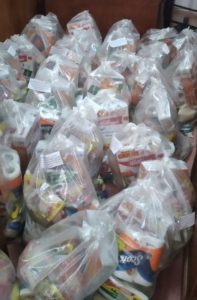 We will need approximately $5,000 more to provide a much needed 2nd food distribution in April. Ifyou haven't given already, would you consider making a gift so we can help our families one more time?
To give online click here and select "COVID-19 Emergency Assistance" in the dropdown menu.
Or send a check to:
Jubilee Centers International
PO Box 7758
Grand Rapids, MI 49510
MEMO LINE: Emergency Assistance
Please know that we are also praying for you and the situation in the US. Please feel free to write us and reach out with any prayer requests, questions, or comments you may have. We would love to hear from you!
---